Dear Leaders,
NATIONAL CAMPAIGN (NC) / BETTER WORLD (BW) BADGE SCHEME 2023
Greetings from The Singapore Scout Association (SSA).
We are pleased to inform that leaders may now register eligible Scouts for the NC and BW badge schemes via the MSDS Youth Programme Registration Portal.
Kindly note the following:
For

NC badge schemes

,

Registration will be opened in 2 intakes; till 30 June 2023 and 30 September 2023 (refer to Annex A).
Leaders may obtain relevant information, teaching materials and results form via SSA's website (link provided in Annex A).
Leaders are to submit completed results form, receipt number of payment made and supporting documents electronically by the respective deadlines (link and deadlines provided in Annex A).

For

BW badge schemes

, leaders may obtain relevant information via the 'BetterWorld' website at: https://scout.betterworld.sg/repository/
Please refer to Annex A for details regarding the various badge schemes and for payment instructions respectively. Additionally, please note that:
Additional supporting documents (e.g. reflection journals, photos, videos etc) may be required for audit purposes.

Such audits are jointly conducted by the relevant agencies and the National Programme Team

.
Photos, videos and other forms of visual submissions may also be used for official reporting purposes (e.g. report submissions to agency and/or annual report publication).
Kindly email Ms Emily Ho, Executive (Programme) at emily.ho@scout.org.sg or call 69115790 for assistance or clarification.
We look forward to your enthusiastic participation.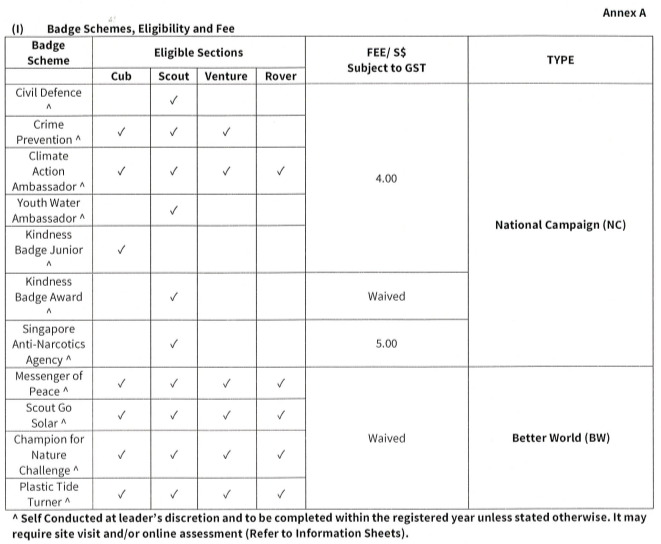 Deadline
MSDS Registration Period
1st Intake: 8 February 2023 – 30 Jun 2023

1 July 2023 – 30 September 2023

Submission of Results Deadline & Outcome of badge scheme and Notification of Collection Period
Batch 01/2023

Submission Deadline: by 10 April 2023
Collection Period: 1 May 2023 – 17 June 2023

Batch 02/2023

Submission Deadline: by 1 August 2023
Collection Period: 21 August 2023 – 30 September 2023

Batch 03/2023

Submission Deadline: by 1 November 2023
Collection Period: 20 November 2023 – 16 December 2023

Information Sheets and Results Form
https://scout.sg/ssa-circular under Programme – Youth
Online submission (Google Form) To be completed by Adult Leaders only
https://bit.ly/NBCSubmissions2023
MSDS Youth Registration Portal
https://intranet.scout.org.sg